Where To Start When Designing an Open Concept Home
Open concept living is a trend that shows no signs of slowing down anytime soon. Turn on any HGTV or DIY show, and you'll see someone tearing down walls and opening up a home. If you're still living with "rooms" – a kitchen for cooking, a dining room for eating, and a living room for entertaining, it's time to check out an open floor plan.
It's a great way to open your home's floor plan, improve the flow, and let in more natural light. As today's lifestyles have shifted to a more informal way of living and entertaining, the idea of a formal living room and dining room no longer fits how we actually use our space.
An open concept home brings with it many benefits, including:

Adding space without incurring the expense of changing your home's existing footprint.

Increasing natural light throughout the living area.

Improving traffic patterns and workflows in the kitchen.

Allows you to enjoy more of your home, more of the time!
So if you're unsure where to start, or how to proceed when you decide to open your home's floor plan, here are some ways to achieve an open concept in your home.
Above: This 1950's ranch home was formerly isolated into 3 different spaces, plus a circuitous hallway route to the formal living room. Removal of loadbearing walls opened the kitchen to the family room, and the main dining table nestles into the island to create a banquette style semi-formal dining area. Click here to see the rest of the project with the straightened hallway connections to the rest of the house.
Planning Your Project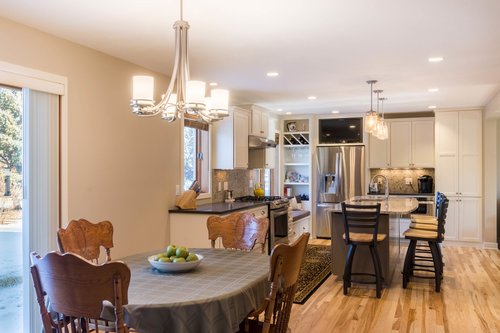 Planning is the first step towards a successful project. If you're considering opening up your floor plan, start by taking some time to think about what you're looking for in an open concept. Think about your space needs. Consider the size of your furniture and the number of people who will be occupying the room.
For example, the distance between the kitchen counter and dining room table should be a minimum of four feet to allow guest to walk between the two and have room to pull out the chairs comfortably. If there's an entry door in the path, or if your space is larger, you may want to consider 6 feet or more to keep your space proportional.
Once you've determined the size of each space, consider which spaces need to be next to each other. Rooms next to each other are called "adjacencies." An obvious adjacency is placing the dining table near the kitchen for easy serving. But do you want a workspace or comfortable seating close by? Make sure your space meets your lifestyle needs.
What is your current space like? Your new open concept will exist in your existing floor plan. Think about outlets, doors, windows, columns, or partitions and consider any changes you'll need to make. You also need to be aware of existing wiring, plumbing, gas, and sewage lines. Moving these can increase your costs considerably.
Linear Organization or Axial Arrangement?
A linear organization places a series of spaces in a straight line. A linear approach is very flexible. The sizes and shapes of individual spaces can be unique, as long as they relate to each other in a straight line.
An Axial arrangement has two or more significant points that define the space – like a kitchen on one linear path, and the dining room on another. The path between the two then becomes a major design element that can help define your space.
Travel paths are an essential element of an open concept design. Consider how people will move between spaces. Think about doorways and stairs to all ample flow. Remember, you'll need a minimum of three feet of room for paths of travel.
Refining Your Open Concept Plan With A Design-Build Contractor
While educating yourself is a crucial element of any project, working with a design-build contractor can help immensely. They can take your preliminary research and give you an educated assessment of what is possible, and any potential issues like rerouting electrical and plumbing lines, identifying load-bearing walls that will require structural adjustments and more.
Once you've finalized your plans, your contractor will begin removing walls to open up the space. They will patch any flooring, patch and paint the ceiling and move forward with the construction. Some things to consider when opening up your floor plan include bringing in more light by adding or widening existing windows, opening your space to the outdoors by adding a slider or french doors or installing skylights to flood the space with natural light.
A designer can help you understand options you may not have considered like raising ceilings or creating a vaulted, coffered, or tray ceiling. Remodeling staircases, when opened up by removing flanking walls, removing risers, or replacing old banisters with steel or cable rails, can add to the airy feeling of an open concept.
Storage can sometimes become an issue when opening up your floor plan. Removing walls and widening windows can erase spaces where cabinetry or closets once lived. Installing custom built-ins can help. Your designer can offer you helpful information about how to include storage into your new open concept living space.
When it comes to storage, your designer can help you think outside the box. For example, creating a walk-in pantry, or improving garage storage options to replace cabinets lost during construction.
Some Additional Things To Consider
Here are a few tips to take into consideration when planning for an open concept home.
Think about the views. Orient new windows and doors to exploit any views on your property.

Make sure you consult with your contractor about relocating HVAC ducts and vents. You'll need to evaluate whether your existing system can handle the increased volume that a raised ceiling or a large open space creates.

Light colors on the walls and floors can make an open floor plan appear larger and more cohesive.

Make sure to take an inventory of art and furniture you must have on the walls during the planning stage.

Working with a professional design-build-remodel firm can help you to understand better your options and the decisions you'll need to make when designing an open concept floor plan. One thing is sure, once you've experienced the flow, increased light, and functionality when entertaining, you'll wonder why you didn't remodel your home sooner!
(Credit: https://degnandesignbuildremodel.com/blog/2019/7/9/how-to-create-an-open-concept-floor-plan-in-an-existing-home)